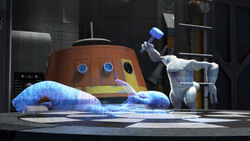 Dejarik, also known as holochess, was a holographic board game played throughout the Galaxy. The game projected creatures, which served as pawns. These pawns, when in the correct position, could attack one another. 
One Dejarik table was located on the Ghost, a rebel starship.
Appearances
Season One
Season Two
Ad blocker interference detected!
Wikia is a free-to-use site that makes money from advertising. We have a modified experience for viewers using ad blockers

Wikia is not accessible if you've made further modifications. Remove the custom ad blocker rule(s) and the page will load as expected.