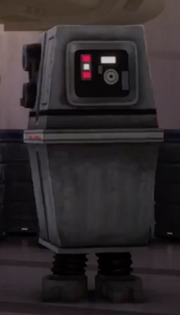 GNK Power Droids were little more than walking batteries. They trundle along as directed by their owners or their programming, recharging vehicles and machinery. They are often called "Gonk" droids in imitation of their simple vocalizations. One certain GNK Power Droid, named EG-86 was a rebel courier with vital information for the Rebellion.
Appearances
Season Two
v

•

e

•

d

Star Wars Rebels Characters
Ad blocker interference detected!
Wikia is a free-to-use site that makes money from advertising. We have a modified experience for viewers using ad blockers

Wikia is not accessible if you've made further modifications. Remove the custom ad blocker rule(s) and the page will load as expected.