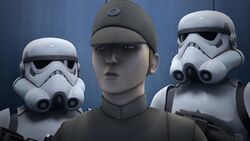 Imperial Officers, or Imperial Navy Crewmen, were non-infantry members of the Galactic Empire's military that served forces on both the ground and in the air. They commonly crewed starships, such as Imperial Star Destroyers, and shuttles. Some officers, such as Commandant Cumberlayne Aresko, were put in charge of training Cadets at Imperial Academies.
Notable Officers
Trivia
Appearances
Books
Season One
Season Two
Season Three
v

•

e

•

d

Star Wars Rebels Characters
Ad blocker interference detected!
Wikia is a free-to-use site that makes money from advertising. We have a modified experience for viewers using ad blockers

Wikia is not accessible if you've made further modifications. Remove the custom ad blocker rule(s) and the page will load as expected.