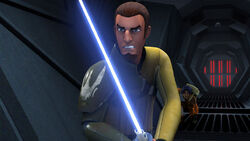 A Jedi Knight was a rank given to Jedi who were above the Padawan and below Master.
To become a Jedi Knight one was to face the Trials (which consisted of the Trials of Skill, Courage, the Flesh, the Spirit, etc.), and only then was one considered a fully fledged Jedi Knight although exceptions were occasionally made if a Padawan proved themselves in unexpected ways, such as when Obi-Wan Kenobi first defeated Darth Maul whereas Kanan Jarrus was knighted for his years of work as a rebel and gaining enlightenment. When one became a Jedi Knight, they usually took on Padawans of their own.
If a Jedi Knight successfully trained a Padawan to the rank of Knight or was named to the Jedi Council, they were elevated to Jedi Master.
Known Knights:
Ad blocker interference detected!
Wikia is a free-to-use site that makes money from advertising. We have a modified experience for viewers using ad blockers

Wikia is not accessible if you've made further modifications. Remove the custom ad blocker rule(s) and the page will load as expected.