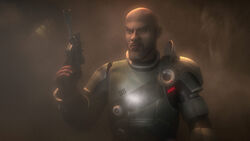 The
mission to investigate Geonosis
was an operation undertaken by the
Partisan
leader
Saw Gerrera
. Saw traveled to the desert planet of
Geonosis
in the hopes of determining what major construction project the
Galactic Empire
had previously posted in the
Geonosis System
.
He and his team would later be stranded there and would lose contact with the outside world. The Ghost Crew were sent to mount a rescue mission upon request by Bail Organa.
Appearances
Season Three
Ad blocker interference detected!
Wikia is a free-to-use site that makes money from advertising. We have a modified experience for viewers using ad blockers

Wikia is not accessible if you've made further modifications. Remove the custom ad blocker rule(s) and the page will load as expected.