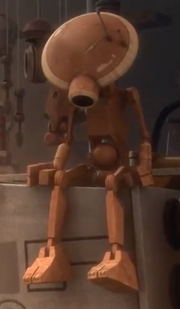 Pit Droids were cheap, durable repair droids. When not in use, Pit Droids fold up into a compact package. They spring to activation when needed. A tap on the nose signals the droid to collapse back into stowed mode and rest.
Appearances
Season Two
v

•

e

•

d

Star Wars Rebels Characters
Ad blocker interference detected!
Wikia is a free-to-use site that makes money from advertising. We have a modified experience for viewers using ad blockers

Wikia is not accessible if you've made further modifications. Remove the custom ad blocker rule(s) and the page will load as expected.