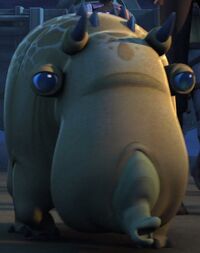 "It can do the job of a dozen mining scanners."
Puffer pigs was a species of short animal with a keen nose for valuable minerals. For this, they were employed as a more efficient alternative to mining equipment. When frightened, a puffer pig could swell its body to several times its original size.
Gallery
Appearances
Season One
Trivia
Puffer pigs are similar to Nifflers, from the Harry Potter universe.
Ad blocker interference detected!
Wikia is a free-to-use site that makes money from advertising. We have a modified experience for viewers using ad blockers

Wikia is not accessible if you've made further modifications. Remove the custom ad blocker rule(s) and the page will load as expected.