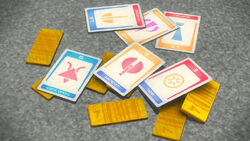 Sabacc was a popular card game played throughout the galaxy. The game was often played with high stakes in mind.
On one occasion, Garazeb Orrelios of the Ghost crew lost an astromech droid named Chopper to Lando Calrissian, a smuggler. Calrissian had a hand known as an "Idiot's Array", which was unbeatable.
Appearances
Season One
Season Two
Ad blocker interference detected!
Wikia is a free-to-use site that makes money from advertising. We have a modified experience for viewers using ad blockers

Wikia is not accessible if you've made further modifications. Remove the custom ad blocker rule(s) and the page will load as expected.