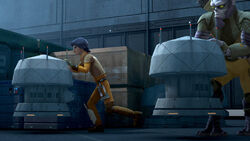 Shield generators
were a form of technology used to generate force fields and were primarily used by the
Galactic Empire
. They were manufactured by
Kuat Drive Yards
and were very popular on the black market.
One type of generator, the Colicoid 49-v99 Deflector, was a small, military-grade model that was easily transferable. The Ghost crew once stole a stockpile of these generators from Imperial forces for use in their fleet.
Appearances
Season Two
Ad blocker interference detected!
Wikia is a free-to-use site that makes money from advertising. We have a modified experience for viewers using ad blockers

Wikia is not accessible if you've made further modifications. Remove the custom ad blocker rule(s) and the page will load as expected.