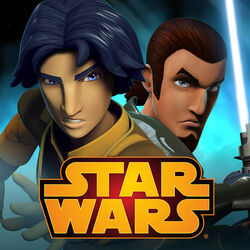 Star Wars Rebels: Recon Missions
is a mobile game based on the television series 
Star Wars Rebels
. It was developed by
Gigataur
for iOS, Android and Windows devices, and was released on March 26, 2015. 
It was discontinued due to developer constraints in June 2016.
Official description
Rebels wanted! Are you ready to stand up against the Empire? Become an intergalactic hero in Star Wars Rebels: Recon Missions, the new action-platformer mobile game! Take on 4 FREE levels of battle against the Empire as Ezra Bridger, dodge TIE fighters, blast stormtroopers, and drive an Imperial AT-MP.
With in-app purchases, wield a Lightsaber, fight Star Wars bosses, drive an AT-DP, and unlock 30 more levels and 50+ unique challenges. Customize and expand a secret Rebel Haven where heroes can hide out and rescue citizens. And, interact with characters like Zeb the muscle of the Ghost team, Hera the pilot, Chopper the grumpy Droid, Vizago and even Ahsoka Tano.
Appearances
Characters

Droid Models

Locations

Vehicles

Creatures

Miscellaneous
Gallery
Ad blocker interference detected!
Wikia is a free-to-use site that makes money from advertising. We have a modified experience for viewers using ad blockers

Wikia is not accessible if you've made further modifications. Remove the custom ad blocker rule(s) and the page will load as expected.