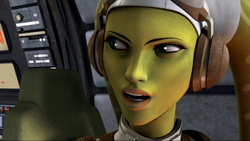 Twi'leks were a humanoid species native to the planet Ryloth, distinguishable by their Lekku, or headtails.
Notable Traits
Lekku, which held part of the brain.
Male Twi'leks have external ears like humans, but female Twi'leks have short cones.
Different colored skin.
Pronounced accent, which can fade if a Twi'lek is off-world for an extended period of time.
Notable Twi'leks
Appearances
Books and Comics
Season One
Season Two
Season Three
Ad blocker interference detected!
Wikia is a free-to-use site that makes money from advertising. We have a modified experience for viewers using ad blockers

Wikia is not accessible if you've made further modifications. Remove the custom ad blocker rule(s) and the page will load as expected.