These are Imperial Regulations...

This article is in need of urgent cleanup. Some sections of the page may not be up to wiki standards.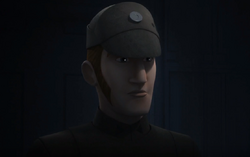 "Sir, one rebel ship escaped the blockade."
―Woldar to Thrawn
Commander Woldar was a Imperial officer under the command of Grand Admiral Thrawn. He reported that Ezra Bridger escaped the battle in order to get Sabine Wren and the Mandalorians for help.
Appearances
v

•

e

•

d

Star Wars Rebels Characters